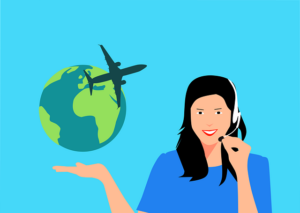 About 1.4 billion people travel each year, and a travel agency plays a major role in executing these travel plans. But you may wonder what a travel agency meaning is and what it stands for.
A travel agency is a private service provider that offers travel and tourism related facilities. Some of the main services offered by a travel agency includes booking flight tickets, managing transportation, choosing accommodation options, arranging indoor and outdoor activities, setting up sightseeing tours and creating travel itineraries for their customers.
In addition, a travel agency also takes care of logistics for luggage, provides travel insurance, currency exchange services, medical aid and more. 
Depending on the package you have chosen, you can enjoy all these vast range of services offered by a travel agency. In fact, some travel agencies also offer custom-made travel packages to their customers. 

From serving individuals to providing packages catered to families, corporate officials, honeymoon couples and groups, a travel agency makes sure to meet the unique demands of their clientele. 
Once you have understood the travel agency meaning, the next step is to launch your AI-powered website via Pathfndr that simplifies the operations of your travel business and personalizes your experience via 15+ algorithms that drive the platform.