Online vs Offline Travel Agent, which is better? Or this the era of interdependent co-existence? Is an omnichannel the best? Find out here.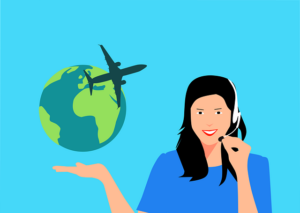 In the competition between online vs offline travel agents, technology continues to define the rules of the travel game while the human interface is witnessing an upsurge like never before. Is this the era of interdependent co-existence?
Riding the internet waves
The travel and tourism industry is among the early adopters of digital transformation, and the writing is on the wall. Travelers have been quick on the uptake. The percentage of travel bookings made online via a mobile app or website has risen sharply over the last decade.
Market research by Statistica shows that in 2020, 65% of worldwide sales in tourism and travel were made online. Further, the Statista Mobility Market Outlook estimates that online sales would rise to 72% by 2025. The tech-powered travel landscape is expected to evolve even more with the onset of Virtual Reality, AI-powered applications, and ChatBots.
Hooked to online
The need to click-and-go governs every aspect of our personal, professional, and social lives. Travel is no different. The control and convenience of online booking have dramatically altered the way we make our travel decisions. The freedom and ease of trip research, booking flights, and reserving accommodation are a breeze thanks to the digital experience.
All one needs is a smartphone or a desktop. Tracking prices, shopping for discounts, deals, and Internet-only offers have transferred the power into our hands. We can decide on destinations, pick 'fly and stay' combos and accommodation to suit various preferences.
Making, changing, or canceling reservations at the last minute is a cakewalk. But even the best of system offers partial solutions. We spend hours and days doing travel research, fine-tuning itineraries and finding experiences or tours to carve out a dream holiday. This is the gap that intelligent, dynamic packaging aims to fill.
Airlines, train operators, and hotels have started selling vacations. Holiday planners are helping customers book travel, accommodation, car rental, luggage services, and even museum tickets with a single transaction. Industry gurus foresee a more 'democratized' future, where allied businesses, say a winery, would be able to use big data and Application Programming Interface (API) to add a travel booking function on a website. Dynamic packages will help OTAs and online tour operators achieve consistently high margins and the traveler to reduce effort. It will be a win-win for all.
Seeking a safety net
Online travel aggregators and travel supplier web portals have changed our approach to travel in the internet era. The trusted travel agency of the past does not command the chunk of the market as far as ticketing and reservations for leisure and business is concerned, but the importance of travel advisory is going through a revival post-Covid.
Travelers are looking for a safety net, a fallback to deal with unforeseen emergencies, impart destination expertise, fulfill special requests and build in value-added benefits out of the reach of self-service. A research study conducted by the American Society of Travel Advisors (ASTA) and Sandals Resorts reveals that 44% of U.S.A travelers who rarely or sometimes used travel advisors said they were now more likely to use one post-pandemic.
Further, 55% of those who have never used advisors said they would use one if it meant access to the advisor's personal relationships and insider perks.
With ongoing uncertainty and quarantine rules changing frequently, travel advisors are becoming irreplaceable sources of information. Travel inspiration on secluded locations, insider deals, updates on latest health and safety standards, news on health policies or re-bookings, they have everything covered. Tour companies and hotels are revisiting collaborations with travel advisors to influence travelers. Because now, more than ever before, travel choices are being thought through on parameters of safety, quality, and exclusivity, not just the lowest price tag. 
Convenience? Comfort? Both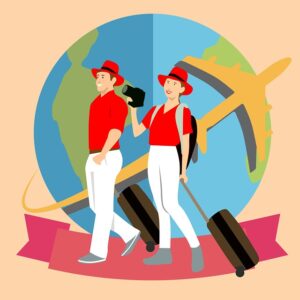 In a recent Tripadvisor study, 74% of travelers surveyed globally said they will spend more time choosing a destination this year. 63% of travelers in the U.S.A said they will spend more time selecting their accommodation, and 70% will spend more time finding things to do. While digital self-service will retain its allure, the new age traveler will get increasingly discerning, both in terms of conveniences and comforts. 
Personalization will play a crucial role in the travel industry as delivering relevant news and content for bettering user experience becomes a focal point of the digital transformation strategy. A good example is micro travels focused on a particular interest like camping holidays or culinary journeys. Offerings are being customized for better impact by using big data of traveler habits, like favorite destinations or airline preferences. 
Sending personalized emails to engage travelers and keep them informed about trends is another example. Travel agencies that move away from a cookie-cutter mode to make a difference for the traveler will have a distinct edge. 
The need of the hour is to blend the convenience of technology with the comfort of the human touch.
Recommended Read:
References
https://skift.com/2021/05/05/nearly-half-of-u-s-travelers-plan-to-use-travel-advisors-post-pandemic-survey-shows/