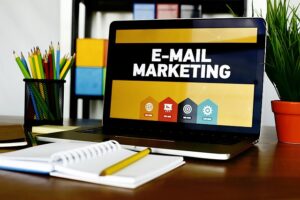 The empowerment that travel brings to one's personality and life in general needs no introduction. It is known to have transformed the most divergent of minds, adding new perspectives to the nonchalance of humanity. 
Lately, traveling caught up quite fast among people across demographics until the setback brought in by the Covid-19 induced limitations. But thankfully, it is reeling back on track, recreating a hold for the travel industry and transforming how people used to travel. 
For instance, for the travel agencies too, the introduction of travel management platforms like Pathfndr has been a game changer, making travel services easily accessible as well as manageable.
The outreach of travel agencies to the aspiring travelers has also been immensely successful, thanks to the mechanism of email marketing. It is a digital marketing tool that has revolutionized how travel agents used to reach out to their prospective customers. 
Email marketing for travel agencies is widely used today and has had a long and successful stint as a mode of business marketing. Almost 80% of businesses operating in the travel industry today use email marketing for effective customer acquisition and sustenance. It has also been a way out for travel businesses in building long-lasting customer relationships. 
It is crucial to understand email marketing for travel agencies in detail along with its effectiveness, types, and tips that can help enhance its impact on the business. Let's check out each of these in detail.
Is Email Marketing Effective for Travel Agents?
Knowing the effectiveness of email marketing for travel agencies can be crucial to understanding and implementing it right in the business. Email marketing has for long sustained in the travel industry for its effective outreach typically to targeted customer bases across geographical boundaries without any hindrance. 
For one, the simple use of customer databases for reaching out has enabled travel businesses to advertise their services in the nick of time. As travel is largely impacted by seasons and festivities, email marketing is a great tool requiring minimal resources for reaching out to the customers during these crucial time periods.
Now, given that emails are something that people check out on a daily basis, it widens the visibility of promotions that travel agencies make through emails. As per a research report conducted among a group, as much as 58% of the participants agreed to checking their emails first thing in the morning. Well, it clearly means greater impact if these emails are already available in their inboxes for viewing. 
Another way that email marketing for travel agencies is useful and effective is that the messages sent through these emails are personalized. These emails are segmented as per the targeted customer base they are being sent to. This helps connect with them better, and highly increases the chance of revenue conversion. 
Further, successful distribution of content has largely been through email marketing. Customers are always more accessible through email than through other modes. The availability of platforms like Pathfndr only makes implementation of email marketing strategies easier. 
The huge pool of customer database that can be accessed worldwide through Pathfndr results in better travel segment identification and targeting for content distribution. Building your travel website through Pathfndr can thus mean simplified access to customers for email marketing targeting. 
Email marketing has for long been in the turf of digital marketing for travel agencies typically for its effective revenue conversion and is of course looking forward to for implementation.
Types of Emails You Can Send
Email marketing for travel agencies can involve sending emails in different types, forms, and formats. This is done to make it more receiver-friendly, useful, and segmented as per personalized requirements of travelers. 
Travel emails with embedded marketing strategies are also sent with an aim to build customer relations that keep them connected. While platforms like Pathfndr ease reaching out to these customers, dedicated email types make the content personalized to bridge the travel agency's goal with the requirements of customers. 
Below given are the prominent types of emails that can be sent under email marketing for travel agencies.
Newsletter emails
A newsletter email is often sent to customers who have subscribed to the service updates of the travel company. The aim of a newsletter email is often to nurture the relationship built with the customers. 
The subtleties of a newsletter email often revolve around adding new information for the customer's convenience of travel planning. Details related to new travel destinations, itineraries, and places to explore often form the theme of newsletter emails.
Emails with exclusive offers
Emails carrying specific and exclusive offers often aim to retain repeat customers for travel bookings. The content of these emails often revolve around loyalty perks, dedicated discounts, offers on the customers' special occasions like birthdays and the likes. 
These emails are dedicatedly customized to provide value based offers to customers and retain the relationship.
Welcome emails
Often the first point of contact between a travel agency and a newly converted customer, a welcome email denotes the first impression of the subscription availed by the latter. 
Adding special offers and discounts to customers in these emails only enhance the value of these messages, taking email marketing for travel agencies to an altogether new level. As per stats, welcome emails have been found to have an open rate as high as over 90%.
Appreciative emails
Appreciative emails carrying thank-you messages can go a long way in securing customer favor for a preferred travel partnership. Timing the thank-you emails well can be the crucial aspect, such as sending these emails right after trip completion, after adding customers as your subscribers, and the likes. 
These emails can also be the right source of receiving valuable customer feedback and can be integrated with useful CTAs for taking them through the next steps of travel services needed.
Confirmation/notification emails
Notification or confirmation emails are often sent to customers right after they have made a booking or when they have completed a trip with the travel agency. Aspects like trip details and service summary form a part of these emails. These types of emails are found to have a high open rate of more than 60%.
Promotional emails
Promotional emails often carry messages aimed at providing details about upcoming trips, tours and other services, urging them to avail the offers. These emails often end with CTAs that ask the customers to avail the upcoming services, like checking out offers, exploring new itineraries, booking trips, and so much more. Promotional emails should, however, form a small part of the total emails sent towards marketing objectives.
Depending on the marketing strategy being followed, travel agencies can also design dedicated emails personalized for specific customers. A travel agency can always look forward to widening their customer reach by accessing the extensive worldwide database that travel management platforms like Pathfndr bring to the fore.

Smart Tips to Create Effective Emails for Travel Agencies
Below given are some smart ways in which travel agencies can draft marketing emails that are high performing for the greatest effectiveness.
Add suggestions for travel destinations that a customer had made a previous enquiry about. These suggestions can be based on new explorations in and around these destinations, round the year accessibility, seasonal suitability, and more.

Including testimonials to emails enhances the overall authenticity of messages for customers. These testimonials received from previous customers and clients help garner trust among new and prospective customers towards the travel agency's brand. It can, as an impact, motivate the customer to book trips with the agency for a well-rounded traveling experience.

Creating incentive-based emails provide customers an opportunity to look forward to better deals and discounts when making bookings. These can be a great attraction for tourists especially during peak travel seasons which often command high booking and hire prices. 

Including deals that run with time limitations can further work in the favor of travel agencies, allowing them to convert customers well within time durations set as per their goals. These deals, however, must not be too pushy and keep the necessary value attached for customer relation establishment in the long run.

A travel agency can also add questionnaires to these emails to better understand customer needs, travel aspirations, and expectations from their services. It not only helps the customer feel heard but also opens up opportunities for the travel agency to improve on their services.

Create a list of reliable subscribers and not just add to the hoard. Keeping reliable subscribers helps target your email marketing strategies better and keeps the conversions easily quantifiable. You can make use of the customer database from Pathfndr to identify these reliable subscribers as per their past travel patterns.

Keep the email designs minimalistic and yet visually appealing.

Select color schemes carefully to align them with the brand identity of your travel agency.

Add CTAs that are the most relatable to customers while keeping them delicate and directional for prompt responses.

Add the right reasons to your email content to make it useful for the customers.
Tools You Can Use for Email Marketing Campaigns
Campaigns of email marketing for travel agencies are more effective when done through the right tools in place. One way to start with the right tools is through your travel website creation via content management platforms like Pathfndr. Some other tools you can use for running effective email marketing campaigns include the following.
Optinmonster, a software used for lead generation for better targeting of travel aspirants and converting them to customers via email targeting.

Moosend, an economical tool for email automation that sorts customers to send emails to, based on the marketing strategy.

Unlayer, an editing tool that can help devise emails which are professional looking with top-notch designs.
Email marketing for travel agencies has been a functional marketing tool used digitally by travel agencies worldwide. The availability of platforms like Pathfndr only makes it easier than ever to reach out to the right customer base for a better travel business promotion and value addition in various ways, including through email marketing.