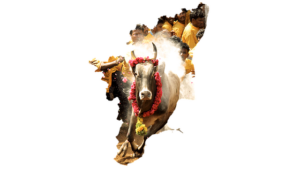 With the boosting economy, travelling agencies are once again cementing their position in the post-pandemic world. As tourists are stepping out to embark on memorable journeys, there is a surge in demand for holiday planners. About 55% of millennials rely on travel experts to plan their trips. If you are a travel agency in Chennai, it's time for you to grow your business by offering world-class services. 
Tourists find it quite anxiety-inducing to plan a trip on their own. Especially if you consider all that it involves: booking flight tickets, maintaining a budget, and creating a foolproof itinerary. A travel agency in Chennai plays a major role in reducing their worries. The end-to-end service offered by some travel agencies also makes it easier for travellers to plan their vacation.
Below, we have listed 20 travel agencies in Chennai that are known for their business acumen, excellent services, and affordable prices.
ILA Prayaan Holidays
ILA Prayaan, a leading travel agency in Chennai, is known for its consistent expert assistance. Being a one-stop shop, this travel agency offers a variety of services. Some of them include creating foolproof itineraries, booking the right accommodation options, and reserving airport transfers, activities, and flight tickets.
Express Travel Corporation Services LLP
Whether you'd like to immerse yourself in the cultural beauty of domestic destinations or embark on a journey to uncharted international territories, Express Travel Corp provides excellent services to leisure travelers. In fact, this travel agency in Chennai also offers vehicles to corporate clients.
Travel Berries
Whether you'd like to explore the skyscrapers of Dubai or take a stroll on the white-sand beaches of the Maldives, Travel Berries is the perfect travel agency in Chennai to plan your international travels and make memories that last a lifetime.
Aerowide Travels
This travel agency in Chennai makes it possible for you to book international and domestic air tickets, find lavish accommodation options, get Visa assistance, and attest your certificates. Moreover, you can enjoy luxurious packages for a variety of Indian as well as international tourist destinations.
Pick Your Place
Whether you'd like to plan a trip, reserve a hotel room, or book airport transfers and intercity cabs, Pick Your Place is a one-stop travel agency in Chennai that meets all your requirements. It also offers MICE travel packages for corporations and their teams. From spending a romantic dinner in Phuket while watching the waves crash against the shore to undertaking a trek in the lap of the Himalayas, this agency offers all kinds of services to its customers. 
Pacific Travels and Tours
This travel agency in Chennai makes sure that all the top tourist sites on your bucket list are checked off. They can plan a memorable trip to every nook and cranny of India as well as take you to some incredible tourist destinations. In addition to travel packages, this travel agency also arranges corporate travel. You can also make use of their visa and passport services, insurance assistance, bureau de change services, and event management facilities. 
Way 2 Explore
Way 2 Explore is another leading travel agency in Chennai that is known for its remarkable travel services. If you are interested in exploring international locations such as Thailand, Singapore, and Malaysia as well as getting to fully immerse yourself in the culture of the locals, then you can opt for their service. 
Goed
Goed allows you to explore the snow-clad mountains, dense forests with a rich wildlife as well as the awe-inspiring snow-clad mountains, all at your own pace. Known to be a reliable travel agency in Chennai, Goed makes sure that you get to experience an immersive vacation. In addition to offering international group tours and customized tours, it also offers honeymoon packages, domestic tours, and cultural and adventurous tours.
Pasla Holidays
Pasla Holidays is a one-stop destination planner for those who would like to enjoy memorable trips. With customer satisfaction as their priority, Pasla Holidays offers well-designed travel packages. With Pasla Holidays, you can have an immersive experience and learn about the rich heritage of each place you visit.

Akshaya India
From an unforgettable voyage to the French Riviera to witnessing the panoramic vistas of Switzerland, Akshaya India offers a wide range of international tour packages to satisfy your wanderlust. Whether you'd like to take the road less travelled or enjoy camping in the lap of nature, Akshaya India is the right travel agency in Chennai for you.
Yugen Destinations
Yugen Destinations has cemented its position as a luxury travel agency in Chennai. You may travel across India and explore its blend of modernity and traditionalism or enjoy an international tour in an exotic neighborhood. All you have to do is book their well-planned packages and spend some enthralling moments with your loved ones.
Olivel Tours
Olivel Tours is a travel agency in Chennai that specialises in offering domestic as well as international tours. This agency takes you through the meandering streets of India, the shopping sites of Singapore, and the sandy beaches of the Maldives.
Trawinz
Trawinz is a top-rated travel agency in Chennai. With smoother and efficient operations, the travel agency offers an overall excellent travelling service that adds to your experience. Whether you want to book the right hotel or need the perfect travel itinerary, Southern Skies will make sure that there is no hiccup in your travel plans. 
Madras Travels and Tours
Madras Travels and Tours is another remarkable travel agency in Chennai. They aim to offer end-to-end travel services to their customers in Chennai and all across the globe. With affordable budgets, the travel agency focuses on offering quality services to their clients, understanding all their travel-related needs.
United Travel Services
United Travel Services offers tour packages that allow you to explore some incredible tourist destinations with a fresh perspective. This travel agency in Chennai believes in maintaining quality services, safety, and the satisfaction of the customer.
Deepa Travels
Deepa Travels is a top-rated travel agency in Chennai that ensures best-in-class bus ticketing and visa services. Catering to a wide range of audiences, Deepa Travels makes sure that the facilities offered are customized as per your unique needs.  
Bhaagyaa Holidays
Bhaagyaa Holidays is a professional tour and travel agency in Chennai that comes with 20 years of experience. It offers home pickup, airport transportation, and one-way rental services. This travel agency also allows customers to receive tour and travels booking alerts via SMS.
Triton
Considered to be the leading travel agency in Chennai, Triton Travel Solutions specializes in offering tailor-made tours within your budget. The company offers innovative packages as well as a team of generous staff that is always ready to help. You can also take advantage of the variety of services available, including air ticketing, hotel booking, visa services, cruise holidays, airport transfers, and travel insurance.
Aero Travels
Established in the year 1995, this travel agency in Chennai allows you to book discounted air tickets for domestic and international tours, including the futuristic Dubai, the pristine beaches of Malaysia, the picture-perfect countries of Europe, and more.
Aaditya Tours & Travels
From the misty routes of Coorg to the beaches of Thailand, this travel agency in Chennai offers incredible domestic and international tour packages. You can also opt for luxe packages, honeymoon packages and enticing cruise tours offered by Aaditya Tours & Travels. 
If you are a travel agency in Chennai that would like to grow its business and become a popular option for tourists, you can take help from Pathfndr. Launch your AI-powered travel platform, supported by 100+ terabytes of the world's travel data. Make it easy for your customers to book their packages, opt for airport transfers, or explore the accommodation options with Pathfndr.