"How safe is the place I want to visit?" When did we last (if ever) ask ourselves that question when we were planning to travel?
Used to be, the most important considerations were "Should I spend this money?" and "How much time do I have?" Now, that's further down on our list of questions.
Let's face it – we took travel/ health insurance for international holidays because it was a visa requirement; for domestic travel, the thought rarely entered our heads. After all, whichever state you're going to, this is home and we're ok at home, right?
Safety has become the deciding factor in whether we travel, and where we travel to

Tweet
Not any longer. Now, we have all learned the value of traveler safety; in fact, safety has become the deciding factor in whether we travel, and where we travel to. And that's how it's going to be for the foreseeable future.
How do you Know it's Safe to Travel?
The last six months have made us do an about-face on our travel priorities. Now, the first thing we want to know about our intended destination is how safe it is to go there? And, if we do go and we do fall sick (from anything, but especially Covid), how good are the medical facilities available?
Providing travelers with these answers, backed up by measurable stats and figures from trustworthy sources, is what the travel and tourism industry, and all its players, need to do.
Pathfndr's Proprietary Travel Safety Index
While the hotel, aviation, and activities/ attractions sectors are being commendably proactive in communicating the measures they are taking to safeguard their customers (and themselves), the larger questions pertaining to the destinations themselves remain.
Pathfndr has stepped in to fill this gap with our proprietary Travel Safety Index (or TSI, as we like to call it).
Sourcing data from trusted sources worldwide and deriving real-time insights through our proprietary algorithms, Pathfndr can advise travelers about their chosen destination, anywhere in the world, on several fronts:
Overall destination health
Covid-specific destination health
Pollution levels
General healthcare facilities
How does the Travel Safety Index Work?
The data required to populate the required indices is crawled and analyzed on a daily basis. Using this information, our algorithm creates a cumulative safety index for each destination by taking the weighted average of several metrics.
An important perspective to bear in mind is that the interpretation of the safety index, and the internal weightage therein, will change as the needs of the times change.
In today's scenario, the greatest weight is given to the Covid index – our current ratio is Covid index : General health index = 4 : 1.
When the pandemic ends, the Covid index's importance will decrease, and may even become obsolete, as other health concerns take greater weight.
But, like we said, irrespective of current weightage, health and safety overall are now, and likely will remain, the deciding factor on a destination's attractiveness (if you're traveling for pleasure; if you're going on business, well then you have to go where you have to go. But the TSI will give you a heads up on what you need to prepare for!).
Where can you find our Travel Safety Index?
When you plan a trip with your Pathfndr powered site, by default, we prioritize health and safety as a key factor by which we search for and recommend destinations to you.
When you open one of our recommendations to view the package (if you already know where you want to go, we skip directly to our recommended travel package), the detailed TSI for that destination becomes available; just click on the TSI icon to view it.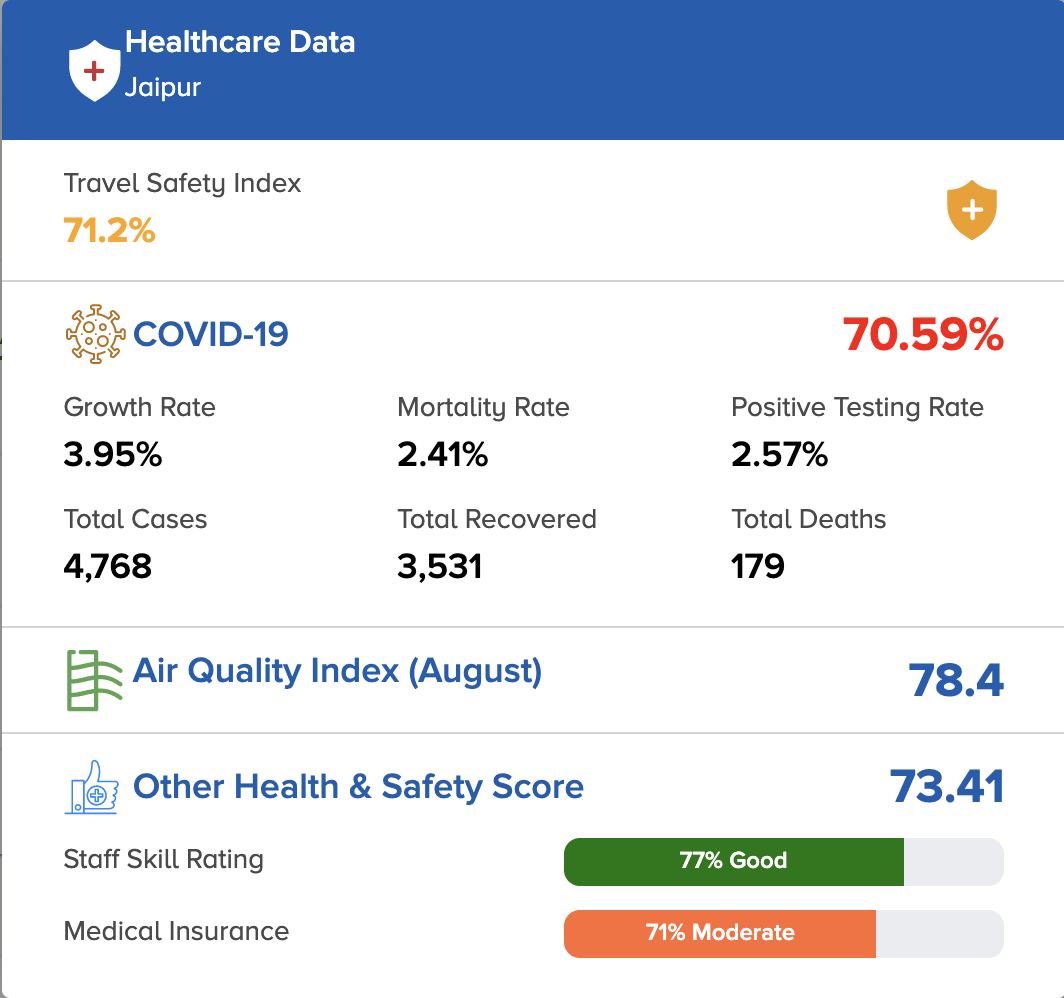 Whether you're actually looking to book that trip or you're just wondering what the health situation is in a particular destination, all you have to do is create a trip to that place and you'll see its health and safety information.
You may access this feature via your Pathfndr powered website.
We don't have to give up on our travel pleasures as long as we're being careful about it, right? The TSI is the silver lining on the travel cloud we're currently under.
Be safe and happy traveling!