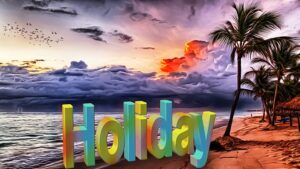 We look forward to a vacation far away on some exotic island or a jungle safari only when the daily chores of everyday life and the crushing deadlines weigh a bit too heavily on our shoulders. 
For most of us, vacations are a prime time to relax, to forget about booking checklists and to-do lists, and to put emails on hold. As fun, relaxing, and exciting as the idea of vacation seems, planning a vacation and putting it into motion is the opposite of all that. It can indeed feel like an extra corporate project you need to submit before you finally can go on a holiday. 
Whether you want to avoid the hassle of planning a trip or you are very particular about details (the kind only a professional can attend to), the best way forward here is to hire a travel agent to take care of your vacation planning for you, and leave your flight booking and hotel booking checklist with them! 
Travel agencies have sprung up everywhere like mushrooms. Unsurprisingly, they all claim to be the very best in their industry. Thankfully you don't need to find the very best in the industry, you need to find a travel agent who is good at their job and more importantly the one who would understand and cater to your specific needs. So, how do you find this paragon of a travel agent? We have compiled a comprehensive travel agent booking checklist to aid you in your quest for the perfect travel agent. 
Raves, Reviews and Referrals
The first step to narrowing down what seems like an unlimited option of travel agencies available online and offline is to look for reviews. It is smart, however, to not rely on reviews from just one website and cross-check across multiple platforms for the most authentic idea. 
The most reliable form of review however is one received through word of the mouth. If somebody you know or somebody who is enthusiastic about travel recommends you a travel agency it is pretty safe to add them to your agent  booking checklist. 
Verify Authenticity
This is a very obvious one. However, with new travel agencies springing up faster than one can spell vacation, it is a wise move to authenticate the legitimacy of the agency you are planning to book. In fact, this should be at the top of your agent booking checklist. It is essential to be licensed to operate a travel agency in India. The government does give licenses to travel agencies here. 
Look for a Local Agent 
Online services have made it possible to book travel agents based almost anywhere. So, what is the benefit of booking a local travel agent? It is always better to sit down face-to-face with someone to communicate your requirements. 
You can always go and meet your travel agents for any last moment changes or requirements. A local agent would know the supply chain between your residential place and destination better. For your own convenience, it is worth adding this point to your agent booking checklist. 
Agents Providing Personalized Travel Itinerary
This is a crucial point in any travel agent booking checklist because not all travel agencies provide personalized travel experiences. Many travel agencies only arrange group tours. Many others, though they arrange individual tours, are not always personalized to your requirement. This is why this point is so crucial in the agent booking checklist. If a personalized travel itinerary is indispensable for you, look for agencies that meet this requirement. 
There are many freelance travel agents these days who work one-on-one with their clients to devise the perfect vacation for them. Provided they are authentic, they are worth a shot. If you are still skeptical about travel agents who don't work with an agency, read this article from an independent travel agent. 
A good travel agent who specializes in personalisation would ask you questions to truly understand your needs while adding their own valuable input. These questions are not always only regarding travel itinerary or your wish list for the vacation but also about your budget. It is very crucial to get travel agents who can work well within your budget. 
Area of Expertise
It is often the case that different agencies offer specialization in different areas, especially when it comes to international travel. It is virtually impossible to offer specialization in all countries all over the world. 
So, it is preferable to look for agencies with expertise in your destination of choice. That way they will be able to provide more than just travel and flight bookings and be able to guide you through special festivals and local spots in order for you to be able to truly enjoy the culture of the place. If you are assigned a travel agent from your agency, ask for somebody who has already traveled to the place you are planning to go, if possible. 
Customer Service
Let's be honest, we book a travel agent for the experience of a smooth, headache-free vacation, because anyone can book a couple of flights and hotels. It comes under the purview of the travel agent, however, to send you reminders of your flights and travel dates and keep you updated regarding your booking as they proceed with them. 
There should be constant communication from their side. They should be easily reachable. If you are facing issues with the documentation you need for international travel, they should be ready to help. 
A good travel agency checks in on their client during their vacation as well as follow up after their visit. A lot of the time,  good customer service is what sets travel agencies apart. If you are choosing your travel agent through a referral from some friends, question them about the kind of customer service they received. 
Are They Providing the Best Deals? 
This point in your agent booking checklist is a part of the actual working process. It is always advisable to check whether the deals they are offering are the same as or better than the ones online. You can cross-reference them with deals from other agents. 
A lot of the time, when questioned about cheaper deals, some agents are genuine and transparent enough to say that the cheaper deals aren't worth the money they are asking for and that taking a slightly more expensive deal will reap better rewards. This is practical enough. However, if they are booking expensive deals for you that benefit a third party, that is a no-go. Hence, jot this point down in your agent booking checklist as a constant reminder. 
Travel Insurance
If there is an all important question that needs to be highlighted in your agent booking checklist, then it is the question about travel insurance. Over here too, always check online (why not if we can, right?) before zeroing in on a policy advocated by your travel agent. A good travel agent will always guide you toward a good insurance policy and never force you. 
Travel insurance is necessary because it covers flight cancellations, lost baggage, and any last moment cancellations due to unavoidable circumstances. Before finalizing any travel insurance plan make a list of things to consider.

Some Important Questions to Ask Your Travel Agent 
Once you have found your ideal match, it should be smooth sailing from there. However, not without these questions in your agent booking checklist. It is essential to ask these questions in order to have the best vacation possible:
What is the best time to visit your preferred destination? 

Are there any interesting things missing from the travel itinerary? 

Recommendation for cheap and local restaurants and pubs.

How much experience do they have in planning trips to this destination?

Have they ever visited the destination?
The last two questions above will help you understand their knowledge about the destination and how unique an experience you can expect from them. 
And the remaining two are: 
Are all kinds of charges included in the final bill or could there be some extra charges after that? 

What are the documents that are going to be needed for this vacation? 
Conclusion
Whether you are a seasoned traveler who travels thrice every year or a novice struggling to put together a travel itinerary, travel agencies have something to offer to everybody. Finding the perfect travel agent for you might be a process, but once you do find the right one, it's a long-term partnership. While they make your vacation planning hassle-free, the agent booking checklist is there to make the process of finding your best travel agent stress-free. 
Apart from all the other points listed above, one note of advice is to give preference to those who have a website or online presence. It's a great way to get a comprehensive idea about a travel agency; all the important information can be found in one place. And with websites like Pathfndr it is very easy for every travel agency to have a well-structured website. 
There are, however, some things that the travel agents can't take care of for us. There is nothing worse than forgetting to pay a bill or forgetting a credit card, so here's a list of things to check off before leaving for your vacation. Happy travels!